61 keys keyboard synths dynamic,
large LCD displays lyrics, chords, all the parameters.  Stereo audio in and out,
MIDI IN OUT THROUGH,
MIDI editing with advanced feature  241 editable sounds + 8 + 1 drum set set of effects,
128 styles x 4 variations, 8-track.
opened and edited by the function dial (mini sequencer) .
192 facade configurations including settings, sound settings, styles, effects, ...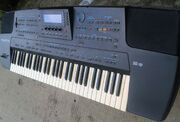 Effects
reverb / delay and chorus

Direct sequence to disk,
8-track editing functions, microscope, copy, etc