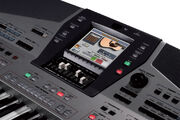 ==Keyboard==
61 keys velocity sensitive with aftertouch
Sound Source
Edit
Max polyphony

128

Tones

1100 panel tones, 54 Drums kits, dedicated EQ for each Oscillator (on Realtime/Style/Song parts) and for each drum instrument on Styles and Songs

SRX Expansion Board slots

2 (for SRX series and SR-G01)

Multitimbral parts

32

Realtime Effect Processors

REVERB section: 12 Reverb; CHORUS section: 6 Chorus;MFX section: 84 Multi-FX;MASTERING TOOL section: Parametric EQ, Multi-Band Compressor;HARMONIC BAR section: Rotary, Vibrato and Overdrive; EXTERNAL AUDIO INPUT: 84 effects; MIC INPUT section: Noise Gate, Compressor, 9 Reverb, 9 Delay;VOCAL HARMONIST section: 9 Reverb, 9 Delay, 9 Chorus

Style/Song Effect Processors

REVERB section: 8 Reverb; CHORUS section: 8 Chorus; 3 x MFX section: 84 Multi-FX; MASTERING TOOL section: Parametric EQ, Multi-Band Compressor

Compatibility

GM2/ GS/ XGlite
Preset styles

more than 350 styles on 12 families

Style Variations

4 Main / 4 Intro / 4 Ending / 6 Fill In / Break Mute on ASSIGN SW

Sync Start / Sync Stop

Yes

User Style Composer

8 Tracks with Micro editing / Piano Roll editing / Guitar Mode Programming / SRX tones selection

Direct Media Link

Yes

One Touch Setting

4 for each Style with customization
For Songs and Styles, 30 ALL, 18 Drum, 24 Bass
Makeup Tools easy editing
Edit
For Songs and Styles with SRX/SR-G01 tones selection;Makeup Tools Freeze Data function;Independent 3-band EQ (with Q) management for each instrument (including each drum instrument);3 dedicated MFX for each Style/Song.
Panel Controls
Edit
Multi-function sliders

9

Rotary Encoder with push switch

Yes

Cursor

Inc, Dec, Up, Down, Right, Left

Pitch Bender and Modulation

Yes

D Beam

Yes, (4 modes)

Knobs

3 dedicated knobs for:Master VolumeKeyboard / Accomp balanceExternal Source Volume

Keyboard Part / Part Assign Switches

Upper1, Upper2, Upper3, Lower1, Lower2, Manual Bass

Display

Color Touchscreen with selectable beep
Player / Recorder
Edit
Mark / Jump

Yes, 4 locations for each Song

Sequencer

16-Track Sequencer, with Micro Event List / Piano Roll editing, Vocal Harmonist control track, Guitar Mode programming, SRX Tones selection, SMF to Style Converter

DigiScore

Yes

Lyrics Display

Yes, with automatic Chord Extractor and Text Import/Export possibility

Viewer

Yes, for .txt and .bmp files
Harmonic Bar
Edit
Virtual ToneWheel technology9 bars: 16', 5-1/3', 8', 4', 2-2/3', 2', 1-3/5', 1-1/3', 1' for Upper1 / Lower1;2 bars: 16', 8' for Manual bass.

Percussion

On, Off, 2-2/3', 4', Slow, Fast

Leakage level

Min - Max

Harmonic Bar effects

Rotary, Vibrato, Overdrive

Registrations

8 sets
Vocal Harmonist
Edit
Mode

4 Modes: Talk, Voice-FX, Auto Pitch, Singer

Programmable Harmony

3 Types: 30 Small, 30 Ensemble, 24 Vocoder

Control possibility

Realtime, on 16-Track Sequencer, via MIDI IN
Music Assistant / User Program registrations
Edit
Music Assistant

unlimited number (approx. 580 as preloaded factory data), programmable

User Program

unlimited number, 144 User Program links on each set
Data Storage
Edit
FDD

3.5" 2HD/2DD

Internal SSD (Solid State Disk)

62,4MB (approx. 35,3MB as preloaded factory data)

PC Card Slot

1 PCMCIA slot for: Microdrive (1.0-inch hard disk drive)*,Compact Flash*, Memory Stick*,SmartMedia**using Card adaptor*the E-80 system manages up to 4 GBytes of the above storage Media

Type of files managed

Style, Song (.mid /.kar files), User Program, User Program set, MIDI Set, Play List, File.txt, File.bmp
Other functions
Edit
Guitar Mode

Yes, for Acoustic and Electric Guitars, with Stereo Doubling function

Finder

Song, Style, User Program

Easy Setting

Arranger, Organ, Guitar, Piano

Chord Alteration System

Adaptive Chord Voicing

Melody Intelligent

Yes, 18 Types, Melody Intelligent 2nd Tone customization

New dynamic Split function

Yes, two modes

Tap Tempo

Yes

Transpose with Singer Key Adapter

Yes, -6 ~ +5

Song Chord Extractor

Yes

Fade IN/OUT

Yes, programmable

Assignable SW

Yes, 2 programmable with Break Mute selection

V-LINK

Yes

Updating system

Yes, on Flash
Connectors
Edit
USB / MIDI

1 USB socket for File transferMIDI IN, OUT, THRU sockets

Audio Output / Audio Input

Audio Output: Main (L/mono, R)' Metronome Output; Audio Input: External Audio Input (L, R), Vocal Harmonist Input (XLR / TRS, Phone balanced / unbalanced)

Jacks

1 x Hold Pedal, 1 x Assignable Switch, 1 x Expression Pedal, 1 x FC-7 Control Pedal

Video Output

Yes, for Lyrics and Chords (2 types),Text and BMP files viewer

Phones

2
Internal Amplification
Edit
Speakers: 2 x 13 cm (woofer), 2 x 6,6 cm (tweeter)Rated Power Output: 2 x 35 W, 2 x 12 W (with Bass Reflex system)Dedicated speaker off switch: yes
Owner's Manual, Power Cord, Music Rest, bundled CD-ROM (it contains E-80 backup data image, USB-MIDI driver (for Mac/PC), DATABASE MANAGER software)
Size and Weight
Edit
Width (W)

1,176 mm

46-5/16 inches

Depth (D)

489 mm

19-1/4 inches

Height (H)

198 mm

7-13/16 inches

Weight

22.5 kg

49 lbs. 10 oz.