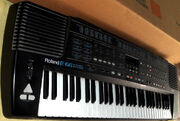 E-66 INTELLIGENT ARRANGER KEYBOARD
Last retail price: $2695
Released: Spring 1990
Discontinued: Spring 1993
KEYBOARD:
76 velocity and channel aftertouch sensitive
SLIDERS:
4 Tone Palette sliders
POLYPHONY:
30
MULTI-TIMBRAL PARTS:
5 + Rhythm
SOUND SOURCE:
Advanced LA Synthesis
EFFECTS:
Reverb, delay, chorus and flanger
INTERNAL MEMORY:
System Setup: 1 
User Set: 10
Performances: 64
Patch: 128
Tone: 128
Rhythm Setup (E1 to G7 76 notes): 1
Original Tone: 114
RAM CARD:
M-256E Duplicate of internal with no Original Tones.
MIDI:
4 Zone Control
OUTPUTS:
4 – 2 1/4′ L/R + 2 1/4′ DIR
DISPLAY:
Large LCD Display
DIMENSIONS:
1097 (W) x 305 (D) x 100 (H) mm – 47-1/16′ X 12-3/16′ X 3-3/8′
WEIGHT:
12 kg – 26 lb 7 oz.
Ad blocker interference detected!
Wikia is a free-to-use site that makes money from advertising. We have a modified experience for viewers using ad blockers

Wikia is not accessible if you've made further modifications. Remove the custom ad blocker rule(s) and the page will load as expected.