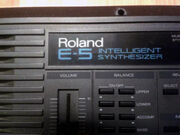 E-5 INTELLIGENT SYNTHESIZER
Edit
KEYBOARD:
61 Keys Velocity Sensitive
SOUND SOURCE SYSTEM:
LA Digital Synthesis.
BUILT-IN EFFECT:
Digital Reverb (3 types).
VOLUME: 
Master Volume Control.
BALANCE SECTION:
Upper, Lower, Accomp., Bass, Drums.
REVERB:
Room, Hall, Delay.
FADE:
Fade-in/Fade-out.
ARRANGER:
On/Off, Chord Intelligence, Memory, Sync Start, Sync Stop, Advanced Arranger.
MUSIC STYLE SECTION:
Bank 1-4, Number 1-8, Card, Variation, Tempo, Fill in To Variation, Fill In To Original, Break Mute, Intro/Ending, Start/Stop
TONE SELECT SECTION:
Bank 1-8, Number 1-8 Select: Upper/Lower/Bass
REAL TIME SWITCHES:
Manual Drums, Lower, Melody Intelligence, Demo Songs.
BENDER/MODULATION LEVER
PITCH: 
Tune/Transpose.
REAR PANEL TERMINAL:
Phones, AC Adaptor Socket, On/Off Switch, Sustain Pedal Socket, 
MIDI (THRU/OUT/IN), Stereo Out: Right, Left (MONO),
Music Style Card Slot.
POWER AMPLIFIER:
2 x 5W (stereo).
DIMENSIONS:
963mm x 320mm x 101mm
WEIGHT:
7 Kg. (E-5)
1,4 Kg. (AC Adaptor)
OPTIONS:
Stereo Expression Pedal (FV-200)
Sustain Pedal (DP-2 / DP-6)
Music Style Cards (TN-SC1 Series)
Ad blocker interference detected!
Wikia is a free-to-use site that makes money from advertising. We have a modified experience for viewers using ad blockers

Wikia is not accessible if you've made further modifications. Remove the custom ad blocker rule(s) and the page will load as expected.